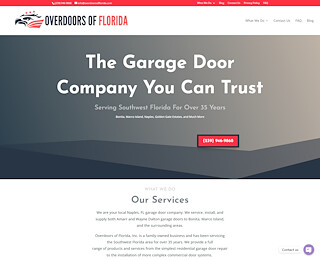 A garage is one of the essential parts of a home. It protects your car from harsh elements like storms, offers security for your belongings, and adds value to your house. Garage doors are made from various materials such as wood, steel, aluminum, and vinyl. But steel garage doors are considered some of the best for the job. Steel doors have countless benefits, including they're strong, long-lasting, energy-efficient, and rather affordable. At Overdoors of Florida, Inc., we install the finest steel garage doors in Bonita FL. For all your garage needs, we are the ultimate residential garage doors company.
5 Benefits of Garage Steel Doors
Here are some of the advantages of installing steel garage doors:
Long-Lasting
If you're looking for a garage door that will serve you for decades, a steel door is an ideal choice. Steel is one of the sturdiest metals. It does not easily get damaged, crack, or dent like other garage doors. Our Bonita garage door company has years of experience installing residential steel garage doors, and we guarantee durability with these doors.
Low Maintenance
Despite being the strongest material for garage doors, steel doors are surprisingly light in weight. As a result, they do not exert a lot of pressure on the system. Therefore, cables, springs, and rollers do not need constant maintenance and replacements like other door systems. With a steel door, you rarely require any garage door repair.
Attractive Designs
Steel garage doors are easy to design into different forms and shapes. The doors can be molded into a variety of textures according to your preference. Additionally, steel doors work well with different colors and do not require regular painting. There are steel garage doors for every type of home. Our company does top of the line garage door installation in Bonita, FL.
Quite Affordable
Installing a typical steel garage door costs a lot less than a traditional wooden garage door. Moreover, a steel garage door requires less general maintenance compared to garage doors made from other materials. Modern galvanized steel doors barely rust or rot.
Energy Efficient and Environmentally Friendly
Steel garage doors have sufficient insulation to keep out cold winter air or hot summer temperatures. They come in a variety of multi-layers for you to choose from. Steel garage doors are extremely popular for their energy efficiency. They have been proven to drastically lower your energy bills and save you money. In addition, steel doors are quite eco-friendly because most of the material used in the doors is recycled steel. There is no damage to the forests or nature when making steel garage doors. Moreover, when it's time to replace your garage door, the old steel is reused and therefore contributes to environmental conservation.
Strong and Reliable Garage Doors
Installing a steel garage door is a sound investment, as it won't disappoint you. It provides enhanced safety and security, durability, increased energy efficiency, not forgetting long term savings on maintenance. Our doors are the best steel garage doors in Bonita FL. For top-quality steel garage doors, contact us today on (239) 643-7612 for a free quote.
Overdoors of Florida Inc
(239) 643-7612
791 20th Ave NW
Naples FL 34120 US