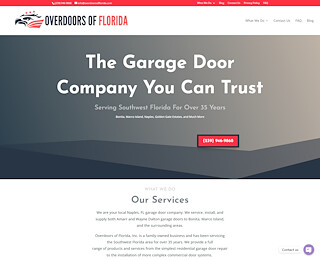 If you've considered replacing your garage door, you're not alone. A new garage door can significantly improve the appearance and value of your home. In fact, replacing a garage door is one of the best decisions you can make for your home. In case you are wondering whether you should repair or replace your garage door, we can help. At Overdoors of Florida, Inc., we are the top garage door replacement company in Bonita Springs, and we can advise you on the best course of action.
A garage door is not just an ordinary door. It has many parts like cables, torsion springs, garage door opener, panel, and frame. A good garage door can last up to 15 years, after which it requires replacement. Beyond 15 years, you can expect parts of the door to start breaking down. As a result, it's advisable to replace your garage door when wear and tear begin to show —we have the perfect replacement garage door in Bonita FL.
Types of Garage Doors We Service and Replace
There are numerous types of garage doors to choose from. As the premier Bonita Springs garage door company, these are the most common types of doors we service and replace:
The sectional garage doors are the most popular type in the U.S. These doors are made of panels connected with hinges. The doors are normally made from steel, are low maintenance, and can be customized to meet your needs. Sectional garage doors are available in both insulated and non-insulated models.
Roll-up garage doors are mostly built for areas with limited ceiling space. When the door opens, it rolls around a drum above the door opening. The doors can withstand frequent usage. The roll-up garage doors are slightly more expensive than sectional doors.
Tilt-Up/Up and Over Canopy Garage Doors
The tilt-up canopy garage door is simply made of one solid piece. As the name suggests, it tilts up into the garage using a pivoting hinge system. The door extends past the front of the house once it's opened.
These types of doors are some of the oldest designs. Side-hinged garage doors look like large barn doors. They are mostly made of wood and, in some cases, are available in galvanized steel. The doors are ideal in places with limited headroom and can be operated manually or automated.
Slide to the Side Garage Doors
As the name suggests, these doors move to one side of the garage as they open. These types of garage doors are extremely efficient and safe.
Your Go-To Experts
Does your garage door need replacement or repair? With us, you're assured of second to none services, including garage door repair in Bonita Springs. Shopping for a new garage door may be difficult, but we're here for you. We'll give you expert advice and provide garage door service in Bonita Springs. Our technicians are highly experienced and well equipped to offer premier services. Contact us today on (239) 643-7612 for a free quote and the best services for replacement garage door in Bonita FL.
Overdoors of Florida Inc
(239) 643-7612
791 20th Ave NW
Naples FL 34120 US