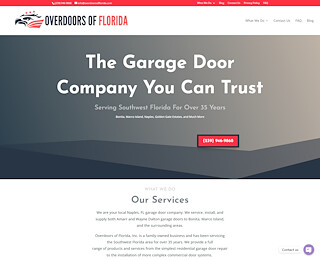 An overhead door company in Naples FL keeps you safe and replaces bent and damaged garage doors. Overdoors of Florida has 365 years of experience, providing customers with quality doors and lasting electronics for your home.
How safe is my damaged garage door?
Your garage door is a serious point of entry for criminals. It may be possible to hack and open your door, especially if the electronics or lock are damaged.
Older doors may be inherently unsafe. The old latch mechanism was common but, once the lock becomes worn, allow anyone to lift the door. Fixing your broken, old, and worn out overhead door is a necessity to create a safe home.
What are the best garage doors in Naples Florida?
New doors should be sturdy, elegant, and capable of deterring unwarranted entry. A Naples garage door company should offer a variety of designs and repair that keeps you safe.
Overdoors of Florida is a trusted Wayne Dalton Installer. We help commercial and residential customers from choice to installation and maintenance.
What is the cost of garage door replacement?
When your door is significantly damaged or you need a replacement, the cost is typically under $1500. The average customer spends as between $500 and $2000 replacing their door.
This includes installation. Higher-end products include electronic keypads storing a secret password to open your door.
 Large selection of garage doors
Customizing your garage door is a great way to turn your house into the home of your dreams. Handcrafted wood, carriage house styles, and classic steel add a contemporary or classic look to your home.
As a Wayne Dalton reseller, we give your customers many options. Customize your door at our design center the touch you want.
Affordable garage door installation
Choosing your door is only half the battle. As a new installer and overhead garage door replacement company, we have decades of experience in working under a variety of circumstances.
We help you pick the correct dimensions, install the tracks, and secure your door system under almost any budget. Our installers fit the door perfectly for your garage.
Where can I find 24/7 garage door repair in Naples, FL?
Our job is not complete once the door is installed. We help you no matter what time it is. Our experts are ready to serve the community at a moment's notice.
Whether your cables are tangled, or rollers come off the track, we get your door working again. Part of offering excellent service is the ability to help you in almost any situation. Home, commercial, emergency, or otherwise, we will be there ready to provide a high level of customer service.
Garage door installation in Florida
An overhead door company in Naples FL offers security and customization for your home. We help you create the safe home of your dreams. Damaged doors are not just dangerous and unsightly but offer an easy point of entry into your home.
Overdoors of Florida offers around the clock help for your garage door needs. Contact us for a free quote today at 239-643-7612.
Overdoors of Florida Inc
(239) 643-7612
791 20th Ave NW
Naples FL 34120 US