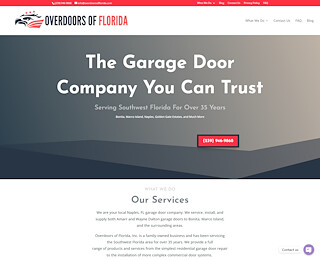 Industrial door repair in Naples FL is not an option. When it comes to protecting your employees, goods, and equipment, you need a company that can handle any task. With over 35 years of experience, Overhead Doors of Florida offers the knowledge and service you need to keep your workspace humming.
Who repairs industrial doors in Naples?
Naples is a hot and humid location, making rust as common as normal wear and tear. Your overhead door company should:
Be on call
Know how to work with any type of door and size
Use quality materials
Be affordable
Never settle for less. The average steel door runs $8000 or more. You want your solution to be both cost-efficient and last.
Around the clock repair
The preeminent area firms know that your business never rests. Early in the morning and late at night, your operation may never cease. Schedule a repair with Overhead Doors of Florida in as little as five minutes. Our garage door repair services are available in as little time as possible.
We aim to arrive at your complex as fast as possible. Nothing is more important to us than helping our customers thrive. Get support when you need it from experienced overhead door professionals.
Are there companies that work with my industrial door?
Industrial doors come in many shapes and sizes. From loading docks to car bays large and small, you need a technician with the experience to solve almost any problem.
Our technicians learn on from their peers and, with decades of work experience behind them, carry an understanding of almost any door. Whether your rollers are broken or there is a dent in your car bay, we can help.
Quality materials
Never sacrifice on quality. A broken door is a liability. These heavy doors can seriously injure employees or lead to more serious complications.
We make our doors to the highest standards using quality material. We use the best springs, cables, rollers, and doors to keep your business operational without pause.
Affordable garage doors
A door done right is the most affordable. The longer they last, the less you need to replace them. At nearly $8000 for an average replacement, constantly using cheap material and labor is not advisable.
Your doors are as important as your alarm system. Our quality doors, experienced technicians, and around the clock service help you avoid the cost of a breakdown. When that involves your products and people, there is no expense to spare.
Industrial door repair in Naples
Commercial door maintenance services near Naples need to know how to repair any door. Industrial door repair in Naples FL keeps your business flowing through every port of entry. We strive to provide the best services possible, backed by over 35 years in business.
No matter the size of your door, we can help. Get in touch with us today to schedule your appointment. Call (239) 643-7612 for more information on our services.
Overdoors of Florida Inc
(239) 643-7612
791 20th Ave NW
Naples FL 34120 US