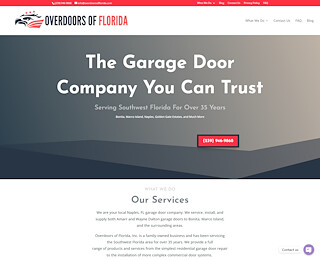 A garage door opener in Naples FL keeps your gateway to the outside world secure. Overhead Doors of Florida offer around the clock services and some of the best products available in the area. With over 35 years of experience, we help you find elegant solutions for your home or commercial space.
What is the best garage door opener?
Garage door openers come in many formats these days. Unlike in the past, they include wi-fi enabled products, silent openers, screw drives, and traditional products for those on a budget. The best opener needs to combine the speed and noise control you want with the capabilities you desire.
Look for a door that you can trust. Your opener protects a vulnerable part of your home and can be as sophisticated as you want. Enter the information age or stick with a budget. The option is up to you.
Security that you can trust
The primary consideration when purchasing an opener is the ability of your door to keep potential intruders at bay. Many products today offer superior security through keypads, Bluetooth, and more.
The days of a cable lock are long over. The keypad is among the most secure ways to avoid a break-in while allowing coded access to your home.
How loud is my garage door?
Garage door experts spent time tinkering on a part of our home that we all take for granted. Aside from improving on security, new screw drives decrease the sound output from your garage door. Screws are incredibly silent, forgoing many of the issues with standard belt-driven models.
The clunk of older models is nearly eradicated with both belt and screw openers. We offer quality brands promising a seamless fluid experience.
Can I connect my garage door to my home network?
Your home network is a powerful asset. Your lights, refrigerator, and washing machine already connect to your Google or other networks. Connecting your garage doors is simple.
Wi-fi enabled doors from Overhead Doors of Florida offer superior quality in a simple package. Easily open your door for your family or car from your phone or another password protected device. Use your voice with your Google assistant for ultimate control.
Budget garage door openers
For those trying to keep to a budget, traditional models are also available. We offer brands such as Wayne Dalton that provide doors for a range of prices and needs.
Traditional openers are belt driven. They may be noisier but for those who do not mind, they cost much less than their screw counterparts.
Garage doors in Naples
A garage door opener in Naples FL is as much about noise and technical sophistication as about security. Companies offering automatic garage door installation in Naples FL get the best product to fit your needs.
Overhead Doors of Florida has over 35 years of experience in the field of garage door openers. Get in touch with our experts today to find the best model for your needs. Call us at (239) 643-7612.
Overdoors of Florida Inc
(239) 643-7612
791 20th Ave NW
Naples FL 34120 US