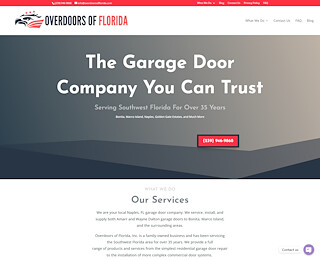 Garage door installation in Naples, FL, helps secure your home and property. Garage doors are regarded as a long-term investment due to their long-lasting features and qualities. And for this reason, many homeowners are making garage doors a top choice amidst all others. After considering different garage doors and finally selected your option, then, the installation comes next.
Although there are several DIY videos about the web on installing a garage door, you wouldn't want to risk your well-being. Why not entrust your Naples FL garage door installation project into our care. We can install all kinds of residential garage doors. Furthermore, here are additional reasons why you should choose us to install your garage doors
Experience
Videos found on the web mostly make the viewer assume that a garage door's installation process is easy, whereas it's a very tedious task in reality. However, most of those videos were shot by experts with years of experience, making the entire installation process look so easy. For inexperience or DIY enthusiast, the process could be cumbersome and dangerous.    
Our trained technicians are furnished with the necessary tools and skills to execute the job. We do not only ensure to install garage doors properly but also to save you from frustration.
Saves Time
Hiring our professional garage door services in Naples, FL, will save you a lot of time, allowing you to focus on other activities. Our experience in installing all kinds of commercial and residential doors makes it easy for us to install garage doors correctly within a short time. When you entrust us with your garage door installation projects, you would save yourself the time you could have invested in understanding, assembling, and installing it, which may eventually end up not correctly installed.
Garage Door Warranties
Hiring our professional installation service means you can get free service up to a specified period. It's a great benefit having your garage door repairs covered by our warranty, as it provides you with the assurance for possible future repair. If your garage door gets damage within the period covered by the warranty, we will provide you with free repair services.  
Although most doors come with their manufacturers' warranty, they must be installed by garage door experts to make warranty valid. Trying to fix your door yourself, you might void your warranty.
Correct Parts and Tools
To ensure that your garage door functions appropriately, several intricate parts must be correctly installed. They include proper wiring, accurate alignment of the photo eye, proper securing of the door opener, and the appropriate installation of springs, cables, and pulleys. Also, the door weight must be balanced. Achieving this requires the ideal implementation of the right installation equipment. 
Our trained technicians will walk in with the correct parts based on your new door's weight and size, accompanied with the crucial tools to handle the installation. 
Garage Door Safety
Garage doors are weighty. Some of its parts are subjected to a significant amount of pressure, making it dangerous for an inexperienced individual to install, except it's installed in line with the laid-down standards and the right tools. We have the required knowledge, experience, skills, and tools to fit your garage door safely. More so, the safety of a home and property is guaranteed with a properly installed garage door.
Do you need a garage installation company near Naples? Look no further! Contact Overdoors of Florida for more information about our services or a free quote: (239) 643-7612
Overdoors of Florida Inc
(239) 643-7612
791 20th Ave NW
Naples FL 34120 US