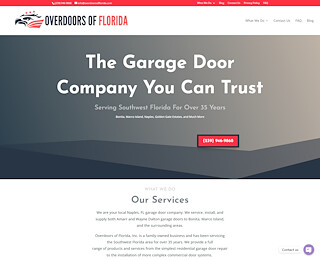 Commercial rolling doors in Bonita FL keep your business humming and your people safe. Overhead Doors of Florida has over 35 years of experience helping to keep many local businesses from suffering the loss of a bay or dock.
What are commercial doors?
Commercial doors differ greatly from your residential garage door. For starters, they are larger and must handle everything from cargo vans to semi-trailers. With a focus on size, you need doors that are:
Large enough to handle your vehicles
Strong enough to stand the test of time and the weather
Use sturdy electronic openers
Is backed by a company as strong as the best door material
There is nothing worse than a commercial door that is not up to the task of keeping your equipment rolling. This creates a liability by placing people, products, and schedules in danger.
How large can commercial doors be?
Commercial doors range in size depending on their purpose. A warehouse may have a much grander and specialized need than a caterer or florist.
Overhead Doors of Florida is up to almost any task. We specialize in sturdy steel doors using the latest technologies, made to fit your business.
How strong do my commercial doors need to be?
Commercial and residential doors both stand up to the elements. The difference is that your business garage doors, when installed by garage door experts, hold much more weight. The stress of a door can measure in the tons.
Proper beams, tracks, and other equipment is required to keep the door in place. In a powerful storm, commercial doors in Bonita must take gale-force winds. We check our installations to ensure that your business is always prepared.
Can I use an electronic garage door opener?
If you run a large installation such as a firehouse or warehouse, you simply cannot open doors manually. Their weight is enough to crush your employees. An electronic opener is more than a suggestion, it is a requirement.
We can help you find the most cost-effective strategy for your business needs. This includes picking and installing the best electronic equipment for your budget and business.
Garage door companies in Bonita
A garage door company is not just an installer, they are a lifeline for your security and logistics. Place your trust in a company willing to help you pick your solution, install doors and equipment, and offer roll-up door repair in Bonita.
Overhead Doors of Florida is experienced. We have highly skilled staff, use only the best material, and are available almost around the clock for a variety of mission-critical repairs.
Where can I purchase a commercial rolling door?
Commercial rolling doors in Bonita FL should not fail fast. Your company processes a large volume of goods and you need to maximize revenue.
Overhead Doors of Florida has decades of experience helping you to stay in the game. Call us for more information on how you can install quality rolling doors at (239) 643-7612.
Overdoors of Florida Inc
(239) 643-7612
791 20th Ave NW
Naples FL 34120 US