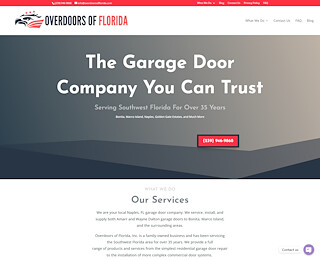 Box truck doors in Naples FL are prone to breaking and wearing out. Overdoors of Florida provides affordable replacements with around the clock support.
How often do box truck doors wear out?
Box truck doors are prone to breaking. Trucks bounce, roll, sway, and encounter numerous other forms of force that wear the joints and locks. Your truck door may last anywhere from several years to the life of your vehicle.
In any case, constant use creates a serious issue. Replacing broken doors is a matter of safety and product protection. These doors may fly open or unexpectedly close on an employee causing a liability issue.
Where can I get box truck doors in Naples, FL?
When your truck doors weaken to the point of need replacement, Overhead Doors of Florida can help. We:
Supply leading products at affordable prices
Offer round the clock maintenance and repair
Provide a free quote
Confirm our work
Florida box truck doors suffer from the heat in addition to your wear and tear. Do not risk an issue by getting in touch with us as soon as possible.
Quality door replacements
Box truck doors need to fit your existing vehicle. This makes the installation somewhat difficult. We carry quality supplies and provide highly trained staff capable of getting you rolling in peace again.
With over 35 years of experience, we saw trucks grow and even shrink in width. You need to keep your business moving and we have the understanding and knowledge to help.
Round the clock support
Our staff can help you at a moments notice. Whether you are a newspaper delivery company, work during the early morning hours, or operate during normal business hours, we are ready to help our customers.
A five-minute conversation leads to a fast turnover. We try to help as fast as we can and will make time for you.
Confirmation of work
Satisfaction is important, especially when safety and product are at risk. We always confirm the work to be performed, remaining up front about issues and costs.
We test our work at every step of the process, from idea to implementation, and leave only when you are happy with the result. Call us once and you are likely to be ready to tackle the road without fear.
Free quotes
Some repair companies charge for a quote. Our experience and capability allow us to give you a hassle-free estimate of work whether you have box truck doors with a latch or require a unique configuration.
Box truck replacement
Box truck doors in Naples FL take a beating over the course of business. Weak and worn doors are a significant safety risk that can greatly impact your business. Replace them as soon as possible.
At Overhead Doors of Florida, we strive to satisfy the needs of every customer. We work hard to achieve 100% satisfaction at an affordable rate. Get in touch with us for a free quote by calling 239-643-7612 or visiting us online.
Overdoors of Florida Inc
(239) 643-7612
791 20th Ave NW
Naples FL 34120 US